The holidays are fast approaching, and for small businesses like yours, the time to prepare for your holiday marketing campaign is now. This season, eMarketer forecasts that US consumers will spend $1.035 trillion during the shopping season, a 3.7% growth from 2018. To capitalize on this spending increase, your small business can integrate email marketing into its holiday promotions. Email is a compelling and cost-effective tool because it offers a direct and preferred communication channel to reach potential customers. According to a study by Marketing Sherpa, 72% of consumers prefer email communication. This is likely because email is permission-based and consumers can sign up to learn more about your brand's promotions and discounts.
Additionally, email marketing tactics deliver a strong ROI for local businesses. A study by eMarketer reported that email had a 122% ROI, more than four times that of social media and direct mail. When it comes to the holidays, email marketing delivered 24% of holiday sales during the 2018 season, according to Shopify. So, email marketing has a lot of data backing it up, but exactly how can you leverage the power of an email campaign? Let's take a look at some email holiday promotions that will resonate with your target audience and grow sales.
Black Friday, Small Business Saturday, and Cyber Monday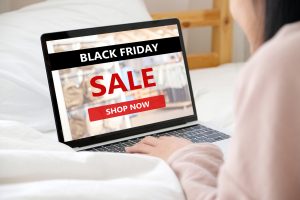 The days following Thanksgiving – Black Friday, Small Business Saturday, and Cyber Monday – are incredibly lucrative for small and large businesses alike. This peak sales period is an excellent opportunity to deliver holiday email messages to grow your customer base and revenue. According to the NRF, 165 million consumers shop during this period, with many of them using online channels. You can experiment with a variety of discounts and special deals in your emails during this period. Try sending special offers to your existing subscribers to make them feel like exclusive insiders. You can also send your offers about ten days before Black Friday and offer last-chance deals for Cyber Monday to increase engagement.
Holiday Gift Guides and Packages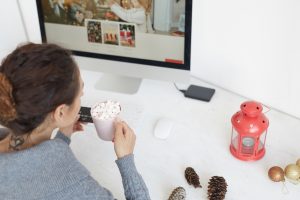 Create a catalog of your best products to showcase a holiday gift guide in your email. You could also create the gift guide as a page or a blog post on your website and include a link to it within the email. Another tip is to segment your gift guide by age, price, or interest. This makes it easy for subscribers to find things that interest them and gives them ideas for friends and family that they are buying for.
Additionally, you can create gift packages that showcase your different products at an exclusive value. Both gift guides and packages are also an opportunity to highlight your top-selling products. Similar to Black Friday emails, make sure to send your gift guide and packages earlier in the season so your brand stays top of mind with consumers throughout the holidays.
Encourage Referrals
Use the holidays as an opportunity to grow your customer base by offering referral discounts to current email subscribers and customers. Delivering emails that incentivize customers with an exclusive deal if they refer a friend to your business will help your business stand out throughout the holiday season. The holidays offer lots of opportunities to get together with friends and family, so offering a referral will give you an edge in drawing loyal customers back and attracting new ones. Referral programs are great for salons, spas, and member-based businesses like gyms.
Last-Minute and Post-Holiday Deals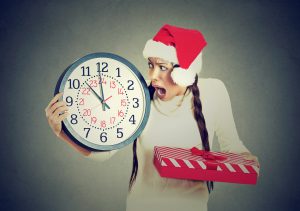 It's ok to admit if you've been guilty of procrastinating at one point or another. You're not alone. As a matter of fact, the NRF found in 2017 that more than half of shoppers wait until right before the December holidays to do their shopping. You can incorporate this into an email reminding subscribers to purchase last-minute gifts and offer up some ideas from your inventory. Send this type of email a few days before the December holidays hit. After the holidays are over, send a few post-holiday deals to your subscribers in order to boost sales as the year closes.
Don't Forget Social Media
People are very active on social media during the holidays. Make sure to tie your email promotions into your social platforms as well. Any promotions or deals that you offer via email that aren't subscriber-exclusive should also be shared on your social pages. This cross-platform approach will help increase brand engagement and visibility.
Are you inspired to get started on your email campaign for the holidays now? If you'd like our help, we offer a powerful email marketing solution that your business can use during the holiday season and beyond. Call us today to learn more.