Search Rankings Mean Business
Strong rankings in the organic and maps of engines build your brand while attracting new customers.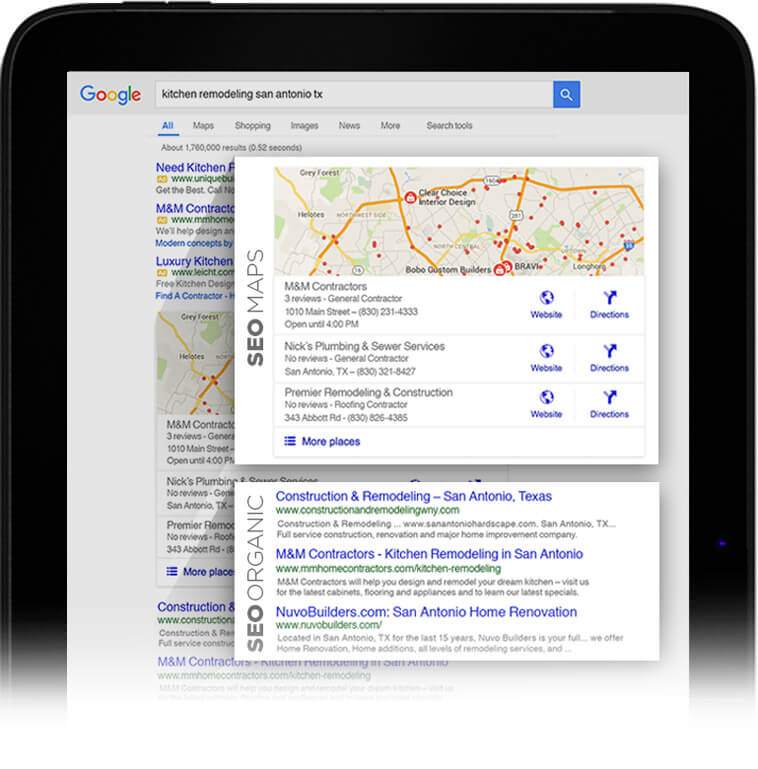 500+
The number of times per year Google changes its algorithm.
Source: Moz.com
SEO Checklist: Tailored to Client
Claiming & Enhancing Map Profiles
Building Local Listing Citations
Link Building Content & Strategy
Editing Code/Meta Information
Creating Strategic, Keyword-Rich Content
Adjusting Site Setup/Configuration
… And Dozens More!
It Starts With a Search
Nearly two-thirds of all web traffic across the entire internet starts from the organic and maps sections of search engines like Google.* Improving your organic rankings allows you to take advantage of this, increasing qualified traffic to your site and driving new customers to your business.
Boost Rankings & Credibility
Organic listings are one of the most trusted sources of information for consumers online. Businesses who rank in the organic section of search engines like Google, Yahoo, and Bing have a significant brand advantage over businesses who utilize advertisements and paid listings alone.
Love Your Existing Website?
We can get you ranking on search engines regardless of whether we're building you a site from scratch or you've had a site for years. For existing sites, simply provide us admin/technical access to your website and we'll take it from there – improving your site's SEO while maintaining its existing design.
A Proven Process, Tailored
Success Tracked

A Detailed Plan of Attack
We start each SEO campaign by examining the client's unique scenario – including their target geography, competition, industry, and existing SEO profile. From there, we lay out our approach using an array of proven techniques from our arsenal, from creative adjustments like adding keyword-rich copy to technical enhancements like increasing site speed for optimal performance.
The SEO Constant is Change
It's estimated that Google, in its efforts to show the best results, makes well over 500 changes to their search algorithm each year!** That's more than any individual can possibly hope to keep up with, especially with a business to run. We employ dozens of SEO experts to evolve our optimization efforts alongside Google's changes – to ensure your rankings continue to improve (and last) over time.
* Source: Conductor.com | ** Source: Moz.com