Creating an online and social media presence is just the first step toward getting clients' attention. Maintaining your presence and controlling your brand is the next step. Customers want to be engaged and feel involved with a brand, but they don't want to be subjected to an information overload or be put to sleep.
Consistency is key, but so is making sure your business stands out from the crowd. Keep someone's attention and make them feel like they know you or your business, and they may be a customer for life. Fail to do this, and you might not just lose a single sale – you could lose a lifelong customer. Here are a few ways your content may be turning away potential customers and how you can improve.
Boring and Bland Content
Consider your audience and what they might want to know about your products or services. What can you tell them about your products or industry that they don't already know? Focus on unique aspects of how you do business to set yourself apart from the rest.
Check out what your competitors or industry leaders are doing and try to come at things from a different angle. Memorable and fun or informative and interesting content will keep people coming back for more.
Content That Is Hard to Skim
Nothing turns away a potential online customer like a page full of content with no resting place for the eye. Keep things simple, and make sure your content is easy to skim. Lists, headings, and images help make it interesting. Don't forget to write content based on the visual hierarchy, which acts as a guide for how to organize content on a page to attract the eye to information in a specific order.
A simple way to follow this hierarchy is to make a list, in order, of what you want people to see. That list will inform the layout: the size of headings and body content, the balance of design elements and empty space, and the colors and contrast.
Loads of Jargon
Using industry-specific terms can be confusing for your customers and can create a sense of distance. When writing content for any platform, gear your writing towards your average customer and how much they know about your business. This is especially effective if you work in a specialized field.
Inconsistent Voice and Branding
People appreciate the sense that they understand a business. Strengthen that bond through consistent voice and branding. Be intentional about your choice of font and colors. Most importantly, decide ahead of time the kind of tone you want to use in your writing. Your tone should match your business and industry.
Misspelled Words and Grammar Mistakes
Confidence in your writing will translate to confidence in your business. You might be the best at what you do, but spelling and grammar mistakes will display your business in an unfavorable light. Make sure the content you're publishing online is free of errors.
Even if you're not an experienced writer, you can take advantage of tools like Grammarly or Microsoft Word's spellcheck tool. Whatever you do, always double and triple check your work to make sure you're making a good impression.
Pixelated Photos
People connect to not just a specific tone of writing, but to engaging and interesting images. Stock photos can be appropriate in some cases, but photos unique to your business will set you apart. These days, smartphones make it easy to take and edit photos. Get some ideas on how to take great photos on your phone from Artifact Uprising here. Elevate your images by editing them in a free phone editing tool like VSCO, and make sure they're suitable for the platform by using a tool like Canva.
Just like with content, consistency will help your readers (or viewers) know what to expect. Keep the sizing, quality, and editing of your photos consistent. Downloading a preset on your editing tool can help your audience recognize your content at a glance.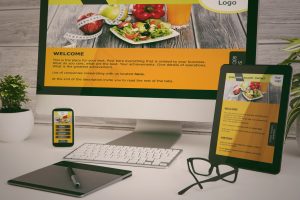 Sporadic Posting
Posting once a month and then multiple times a day on Facebook, Instagram, a blog, or somewhere else will frustrate the average viewer. Remember to post consistently to increase and maintain viewers.
Additionally, keep the platform in mind. While Twitter users see content in chronological order, Instagram users will see content according to a specific algorithm in which consistent and engaging posts will keep your content at the top of someone's feed. Regular posting on Facebook or a blog will keep your business at the forefront of your customers' minds.
Using the Wrong Social Media Platform for Your Business
Posting images on Instagram won't do your electrical business any good, even if it might be perfect for a remodeling company. Instead, a blog or informative Facebook posts might be the perfect way to connect with potential customers. No matter what type of business you run, the content you put out should match the platform and industry. Focus on what's best for your business.
The guidelines when it comes to content and images are always changing. Reference this handy image and video size guide, and follow these content length suggestions to make sure you're posting the right amount of content for whatever platform you're using.
Ignoring Your Audience
The most important thing to keep in mind is that marketing is dynamic. One size does not fit all. Think before AND after you post. See what people are responding to, and let that dictate the kind of content you post in the future.
Considering these strategies when creating content for your online presence can help grow your brand and engage with more customers. Compare your current content to these guidelines. What have you been doing well, and what needs work? If you want to have a conversation about building your content, then let's talk!