Modern marketing has come to understand and fully embrace the importance of online reviews. When you need to find a doctor, a reliable contractor, or you want a date night at the new restaurant that just opened, more than likely you are going to do some online research.
Did you know that more than 90% of all consumers seek out reviews before visiting a business? 90%, that's pretty amazing!
Reviews are important! They can sway the purchasing decision of a consumer. According to Reevo, reviews can produce an 18% uplift in sales. The ability to generate online reviews can make or break a business.
So the question that should be popping in your head is, "how do we get reviews?"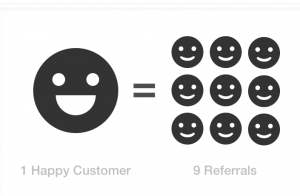 Review sites make sure that there is a place for people to give their feedback. If you are looking to gain more online reviews, you need to make sure your business can be found online and on the sites that allow reviews.
After making sure your business is listed on a variety of sites, make sure to CLAIM your business listing. Google, Yelp, TripAdvisor are all sites that require you to claim your listing before you can even think about responding to reviews.
Now that you have your listing on a variety of sites, publish the link for your customers to see. MAKE SURE TO ADVERTISE WHERE YOU CAN BE FOUND ONLINE.
Don't be intimidated to ask for customer feedback, you want to know what they are thinking. Remember, both negative and positive feedback from customers can help a business grow.
Timing is everything!
The best time to ask for a review is when the value you've delivered to the customer is at the top of their mind. You want to make it easy for the customer to recall what happened so that they can write an honest review.
Earn Reviews the Right Way
So, you completed all of the steps above. You made sure your business can be found online, you asked your customers to review their experience, but you are not receiving any reviews. What gives?
It can be a challenge to get people to write reviews for any business. You may be tempted to provide an incentive for customers to write reviews. Be warned, this may not be a good idea. Many third party sites such as Yelp and Google have policies on how reviews can be requested from customers. If the site assumes you are actively requesting reviews and paying some sort of incentive to the customer, they may remove all of your reviews on their site. Being aggressive could do more harm than good! Make sure to read each site's rules for reviews.
Other ways to request a review:
Include a card with the customer's receipt/paperwork that briefly asks the customer to write a review about their experience. Be sure the card includes URLs to the page you are encouraging them to write a review on.
Everyone has a smartphone. Take advantage of this. Consider adding a QR code to business or comment cards. When the customer scans the code, they will automatically be taken to the review site.
Post to your social media sites asking customers to share their experience on your Facebook, Google or Yelp pages. Be sure to provide a link for easy access.
If you have a newsletter or send regular email blasts, include review-site badges for easy access to your listings so customers to leave reviews.
Post a note on the doors of your business to remind your customers that they can use their Facebook, Yelp and Google accounts to write a review about their experience.
The next time a customer compliments you via email, phone, or in person, mention that you'd appreciate if they left the same feedback in an online review on Yelp, Google, or the review site of their choice.
Follow up with your customers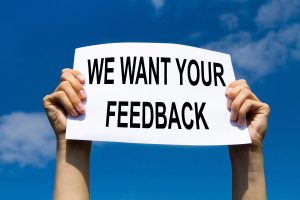 Hopefully, you are already sending your customers a sequence of emails after they have bought something from you. In most cases, it's a good idea to ask for a review 3-5 days after the transaction has taken place. This will give them the chance to engage with your offering and come up with an honest opinion and if they'd feel comfortable recommending it to other people.
The power of reviews is no secret. A customer willing to spend the time to write a review for your business is your brand ambassador. Make sure to develop that relationship so they may help spread the word of your business, both online and off.
', '' ); ?>