Whenever our clients ask us which review sites they should focus their efforts on, one of the first sites that come to mind is Google My Business. Receiving reviews on Google can be extremely beneficial to your business for a few reasons.
When a potential customer searches for your products or services with Google, a list of relevant businesses will appear alongside an average consumer rating and a link to read the reviews left by your customers. According to the 2015 Local Consumer Review Survey, 92% of consumers read online reviews for local businesses (as compared to 88% in 2014)!
The more positive reviews you have on your Google business page, the better. These reviews can even help boost your local SEO! Research shows that with 5 Google My Business reviews, your business can start seeing benefits in organic search results.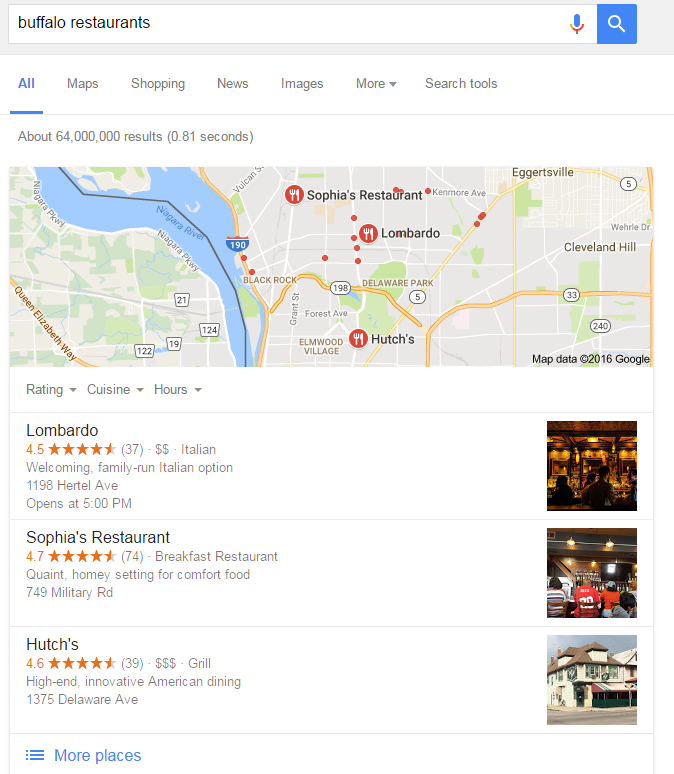 So, how then do you get customers to leave a review on your Google business page?
The key is to make it easy for your customers to leave you a review. This is best done by providing a direct link to the review box. You'll want to make sure that this link works for both desktop and mobile.
Creating a Universal Direct Link
1.) On your cell phone, go to Google.com. Make sure that you are logged out of your Google account while you are creating this link. Otherwise your username will become part of the URL that you send out to your clients.
2.) Search for your business name exactly as it appears on your Google business listing.
3.) Click the round, blue down-arrow button.

4.) Find the review section and tap the 5th star on the far right. This will create a 5-star default rating within the link that you send to your customers. They will be able to modify the rating if they want to when they leave their review.
Note: You may be prompted to log back in, but you don't have to. You can proceed to step 5!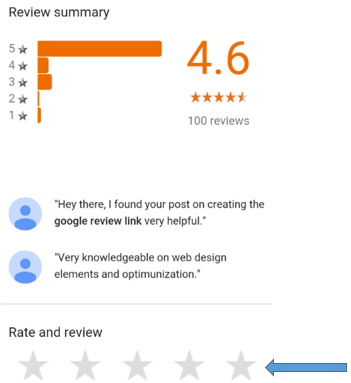 5.) Next, press and hold in the address bar and select the option to copy the URL. Try not to be intimidated by how long it is! We'll get there.
6.) Email that long URL to yourself. Now you've got a universal link that can be used on desktop or mobile!
Now, let's talk about making that URL a little less daunting…
How to Distribute the Direct Link
The best thing to do is to create a professional URL like www.yourbusiness.com/review which redirects to the long URL that you created. You can redirect the URL in the .htaccess file of your web host. If your website is built on WordPress, you can use the redirection plugin.
Alternatively, you can also use Google's URL Shortener.

From here, you can send a simple message to your customer such as, "Thank you for doing business with us!  Would you mind taking a moment to review us on Google? – www.theshorturlthatyoucreated.com"
As soon as they click your link, they will be taken straight to a Google review box with a pre-filled 5-star rating.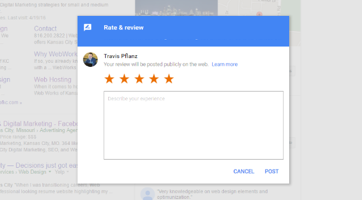 Easy! Stay tuned for more Reputation Management tips.
', '' ); ?>